What is an instant cash loan?
An instant cash loan in Sydney is a lump sum payment of whatever amount you have been approved for deposited directly into your bank account and then repaid over your desired loan term with fixed monthly or fortnightly repayments.
How to get instant cash loans in Sydney?
Are you a resident in Parramatta, North Sydney, Hornsby, Bondi, Chatswood, the Inner West, North Shore, Western Suburbs or Eastern Suburbs? We offer instant cash loans in Sydney and across the rest of Australia online. We're an online lender which means we don't even have a physical office address. Everything you need to know about us is available on our website in plain-speaking language and if you have any further questions about any of our product offerings then you can speak with a customer service representative either on the phone, via our live chat facility on our website or you can shoot us an email.
There are no hidden charges and no bull. Everything you need to know about our schedule of fees and our terms and conditions is written in plain language and viewable on our website. Applications take you less than 5 minutes to complete and submit online and we probably won't even need to speak with you. Apply online now to discover how much you could get approved for today for either loan ranging from $2,100 to $50,000 or our line of credit option for balances between $1000 and $15,000.
Your online application form will ask you for some basic financial details like what your current income is, what other bills and debts you have, what your living expenses are like including what you pay in rent or mortgage repayments, as well as any other incidental costs. We also ask for your online bank details during your application. This step is so we receive a recent transaction statement from your bank covering the last 90 days. We use this statement to verify your application details and it's why we can operate such a fast approval process. 
As soon as you are approved, you are sent a loan offer. If you like the offer that you have received, then it's simply a case of digitally signing and returning it. Once your signed contract has been returned then we authorise the payment of your loan amount immediately. Depending on who you bank with this could mean that the instant cash you're looking for hits your account the same day that you applied for it.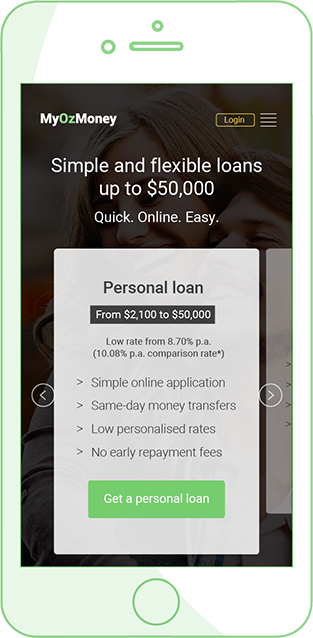 How do repayments work for instant cash loans?
Repayments for your new personal loan are fixed. This means that the number of repayments that you make, the interest rate that you are charged, and the amount of your repayment remains the same throughout the term of your loan. Your new quick loan contract will detail how many repayments you must make, when they will be direct debited and how long your loan term is. Our range of short term loans, for example, start with balances of $2,100 and can be taken over just 12 months. For larger cash loans, you can apply for up to $50,000 taken over 5 years or 60 months.
You can use online tools like our loan repayment calculator to give you an idea of what kind of repayment amount you are likely to have for a loan of your choosing. Adjust inputs like the loan term and interest rate to arrive at an affordable, indicative repayment amount that works for you.
Even after you have started making repayments on your loan, you will not be able to redraw funds from your loan nor apply for a loan increase. If you're looking for small loans like a quick cash injection to help you cover some upcoming bills or buy something like a new laptop, home furnishings or outfit a new home office suite, then you might like to consider our line of credit option instead. Our line of credit is available for balances between $1,000 and $15,000 and, just like a credit card, you can reuse your credit funds once you have repaid them as often as you like. Unlike a credit card, our line of credit works more like fast cash loans when you need them. 
You transfer cash amounts from your line of credit and directly into your bank account with minimum withdrawal amounts of $100. Getting approved for a line of credit from MyOzMoney is just as fast as any of our other credit options, using the same online application form taking less than 5 minutes to complete and submit.
Ready to get started on your application for either our instant cash loans in Sydney or a new line of credit account with us? Apply now and you could have the money you're looking for today.