These things Happen
Advance loans can cover a number of tricky unforeseen circumstances, such as storm damages to your property that require urgent repairs, or when a bill pops up that you just weren't ready for. Advance loans can also be useful for more spontaneous and fun purchases, such as treating yourself to a new outfit, or buying a spontaneous gift for that special someone. The sky's the limit!
The reality is that when you're faced with the unexpected, the last thing you need is more stress. That's why a fast MyOzMoney advance loan can be just what you need. Find out how much you can borrow by using our free online calculator, and get started today.
Fast and simple application
The application process for an advance loan is simple and can be completed online in as little as five minutes.
Start with our personal loan repayment calculator to understand your obligations. Then all you need is a mobile phone number, and your bank details so we can deposit your unsecured loan into your account. If you're on the go, our website is mobile and tablet-friendly, so you can apply for an advance loan from anywhere, at any time.
Once you're approved, you should have your cash advance within an hour, depending on your financial institution. And unlike a loan with a traditional bank, you can apply for a MyOzMoney advance loan at any time, including after-hours or on weekends. It really is that convenient and simple!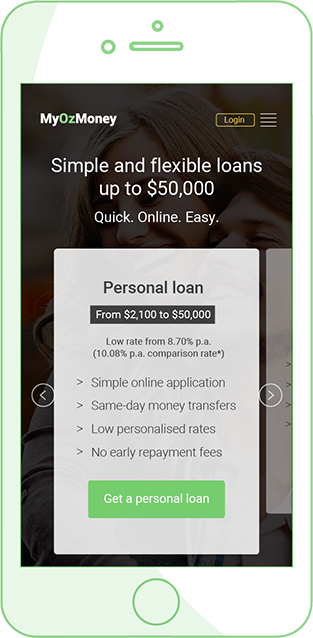 Responsible Lending
At MyOzMoney we are highly committed to responsible lending. When assessing whether an advance loan is right for you, we digitally check your bank accounts to make sure you've got enough income to support your small loan repayments.
We also reward your good credit history with a lower interest rate on your personal loan, something very few lenders can do! Finally, our regular direct-debit repayment schedule is tailored to your needs, so you won't ever have to worry about making manual payments.