Are you eligible for a quick loan?
To qualify for any of our quick cash loans, including our range of long and short term loans, you will need to be currently employed, at least 18 years old and a resident of Australia. We offer a range of finance products to customers all over Australia, including personal loans in Sydney, Melbourne and Brisbane.
Your application will ask you for some pretty standard information like your employment details, your general living expenses such as the rent you pay or your mortgage repayments, and any other debt that you might have. We do a quick credit check on your credit report which determines things like fees and what kind of loan offer we can make you.
How much can you borrow with a quick loan?
We're all about responsible lending so that means that we don't offer our customers more credit than we believe you can comfortably repay, and we also take into account all of your circumstances, especially your current ones. In the past, when you applied for products like our fast cash loans and our line of credit facilities, money lenders would request and receive a credit report which only showed a very limited amount of information.
Getting approved for cash loanshas changed in recent times. Your credit report now shows us a lot of information. We understand that sometimes in life, things happen. You might have forgotten about a bill or been in tough circumstances which resulted in a credit default on your credit file. Now, with the new credit reporting facilities, lenders can actually see your repayment history for the last 24 months, not just the difficult moments on your credit file. When we allocate our customers an internal MyOzMoney credit score, this means that we have seen and noted any trouble you may have had with credit in the past, and we've allocated an appropriate amount of risk to us that you may pose. When you have successfully repaid an easy loan with us, we re-evaluate that credit score and the next time that you apply for an instant loan, you may be rewarded with fewer fees because we have a better understanding of the kind of credit customer you are now.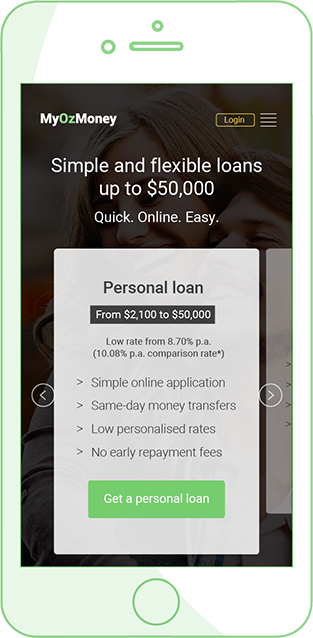 What are quick loans?
The MyOzMoney range of unsecured personal loans is available form $2,100 to $50,000. 
Managing bills and debts when expenses hit at exactly the wrong time can be challenging, wiping out a hard-earned savings balance in one go. Whether it's large extra cash amounts that you need to cover things like medical expenses, mechanical costs or to help you purchase a new car, or small loans to help you clear off your utility bills, cover your new rental bond, pay for your car registration and a few other odds and ends, we can help. Our range of quick loans offers you instant upfront cash so you can pay what you need to pay and still have some breathing space and a bit of saving at the end. 
Our easy money loans can help you plan that holiday you have been promising yourself or finally make a start on an epic worldwide adventure trip. If you're heading back to study, we can help you with a student loan to cover your education expenses. Our school loans cover adult education and university, as well as kids' school fees and college. Pay your tuition fees upfront and save with early bird specials, perks and discounts.
If you have been postponing your wedding day for fairer financial skies, then why not celebrate now? Get a wedding loan from MyOzMoney and have the perfect day that you've been planning. Pay off your wedding expenses, including the cost of your honeymoon, slowly and gently over time with great rates and low fees from MyOzMoney.
If you're sure whether a new quick loan is really affordable for you right now, use our range of online loan tools like our personal loan calculator. Our fixed interest rate loans mean that when you're approved for a certain amount, we'll let you know what your repayments are and then time them with your payday to ensure smooth payments right from the start. To get a general idea of what those repayments might be, use our loan calculator online and input the ideal loan amount and a general guide for an interest rate you think you might be charged. The calculator will spit out a repayment amount which includes the principal loan amount you're paying back, as well as the interest you will need to pay. These are great tools that give you a quick snapshot of the likely cost of a loan and how affordable your repayments will be.
Get approved for MyOzMoney quick loans today. Your application form will take less than 5 minutes to complete and submit and when you apply during our business hours, you'll typically receive a response within the hour. Approved customers enjoy instant money transfers once their loan contract has been signed online. Apply now for the money you need.