What do you need to apply for a personal loan in Brisbane?
Applying for our range of finance options takes you less than 5 minutes. We're Australia's online lender which means we don't have a physical address in Brisbane. Instead, we're able to service the entire Greater Brisbane area including the CBD, Fortitude Valley, South Brisbane, Redcliffe, Beenleigh, Sherwood, Ipswich, Logan City, Moreton Bay, and Redland City, as well as all surrounding areas online. You can apply from any device, from anywhere. The whole process takes less than 5 minutes from start to finish because we don't need you to upload lots of paperwork and we don't need to bother you or your employer with phone calls. Our intuitive finance solution means that we just need some personal and income details, as well as your credit history to come up with a fair and tailored rate. 
At the end of your online application, we may ask you to submit your online banking details. When you do this, we don't receive any access to your account or any of your login credentials. All we receive is a read-only bank statement covering the last 90 days of transactions in PDF format. We use this to quickly and efficiently verify your application details like your current income, your other bills and debts and your spending habits like your living expenses and entertainment costs. Because we use this wholly online process, we're able to offer you instant approvals on any application for our range of quick cash loans or even our line of credit account. When you're approved for a new loan with us, you just have to sign your new contract which is also done online.
Once your signed contract has been received by our loans team then we authorise the payment of your new funds immediately. It will depend on who your bank account is with, but it is possible to receive your cash loan in your account by the end of the same day that you applied for it. Fast, effortless and sensible lending is what MyOzMoney is all about.
How much can I borrow with a personal loan?
Our range of fast cash loans is available for balances between $2,100 and $50,000 which means you can apply for large personal loans ideal for covering costs like medical expenses and procedures, buying a new car, getting some home improvements done as well as paying for tuition costs and other big life events like a wedding or big overseas trip. Our range of small loans starts from just $2,100 and can be taken over just 12 months. When you need a quick loan injection such as when you're moving between rental properties, getting urgent mechanical repairs done or even booking emergency travel, you can choose a fast online lender who can get you approved for short term loans in no time.
If you're looking for a more flexible credit option, then you may like to consider a line of credit with us instead of our range of online loans. A credit line is a revolving line of credit so new funds become available when you have repaid what you have already borrowed. A personal loan works differently, offering you a lump sum cash amount upfront. A line of credit is the more flexible alternative. With MyOzMoney, you have access to instant cash funds from between $1,000 and $15,000 that you can transfer to your account immediately. Minimum withdrawal amount of $100 applies. Once you have repaid those credit funds then they become immediately available for redraw. 
Repayments are flexible and you remain in control with the ability to make extra repayments, reschedule your repayments or even split your repayment amount depending on what you need. We work hard to ensure that our lending process is quick, intuitive and works with our customers' needs – and to that, we remain the fast and effective money lender you can rely on time and time again.
Our range of cash loans can also be repaid ahead of schedule without you having to pay early exit fees, like some other lenders. This is just another way we try to remain as open, straightforward and flexible as we possibly can.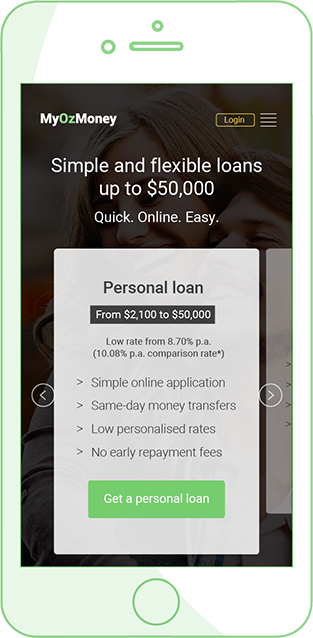 How does taking a personal loan affect your credit?
Credit scores are affected by a range of factors which include how much credit you have already been approved for, what your previous credit history has been like, what your income is and whether you have had any trouble with paying bills. The less credit you have, the higher your credit score generally is but when you remain a good credit customer who repays your loans and bills on time or else arranges an alternative repayment schedule with your provider, your credit score will remain clean and healthy. You can check your credit history online at any time for free.
Get approved today for personal loans in Brisbane for up to $50,000 with MyOzMoney. Applications take you less than 5 minutes to complete and submit and you could have the money you need in your account today. Apply online now.