Things to consider
When planning a holiday, it can be helpful to create a checklist of everything you need to organize. This can include how you will deal with budgeting issues like foreign exchange rates. Exchange rates can fluctuate, which means the price you pay for accommodation or tours can vary from day to day. This can make budgeting for your holiday very difficult. Holiday loans can offer you security by allowing you to book your flights or accommodation ahead of time, when the exchange rates are at their best. This allows you to lock in the cost of your holiday, removing uncertainty around your budget. One less thing to worry about!
Your dream holiday
Holiday loans can help you plan and book your dream overseas holiday. A holiday loan will allow you to borrow the money you need to pay for the more expensive areas of travel, such as flights, accommodation, and tours. You can then repay the loan in manageable instalments over a period of time. By breaking down the cost of your holiday into smaller pieces, it can be easier to manage your budget. It also means your cash savings are freed up for spending money or unexpected expenses that can sometimes arise. This means no nasty surprises.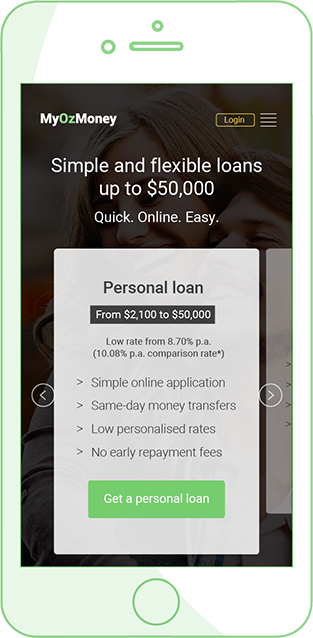 Benefits
When you find a great travel deal online, you often need to act quickly to lock in the price. If you haven't had time to save up for the full cost of your holiday and you need to borrow money to make it happen, you can find out how much you can borrow on the MyOzMoney website. A MyOzMoney holiday loan can help you lock in that great deal before it expires, so you will never miss out. You can apply for up to $50,000 quickly and easily using our online application form. The whole process takes just five minutes, and there is no time-consuming paperwork to complete. We will assess your application electronically and, if approved, the money can be in your account within an hour, depending on your financial institution.
Responsibility
We pride ourselves on being a responsible lender. If you are over 18 years old and currently working, you can apply for a loan with MyOzMoney. We will only ever lend you an amount you can afford to repay. The best part about it is that because this loan is a small personal loan with fixed interest rates, you will always know exactly what you'll need to repay before you commit to the loan.