How does rent assistance work?
Renting a property or a room will come with a fixed amount payable every week, fortnight or month, depending on your arrangement, and each payment must be carefully budgeted in to avoid late payment penalties. If you're just starting out and just moved out of home, getting used to your rental commitment can be a big adjustment. Refer to your rental lease that clearly stipulates what your commitment is, how long your lease is for (throughout which your rent amount is not allowed to increase), and what the terms of your rental include like provision for pets in your property.
For moving into a new rental property and helping you to cover the cost of upfront expenses, we offer rent assistance in the form of a bond loan. This option helps you pay your new landlord or real estate the rental bond owed when you sign the lease for a new property. This bond amount is paid to your state bond authority and held in trust throughout your rental commitment. It helps cover the costs of anything needed to return the property you have rented back to the same state it was in when you first rented it. When it comes time to leave your rental property, you will be repaid either the full bond amount or part thereof, depending on what you have agreed with your rental agent.
Usually, rental bond loans are for about 4 to 6 weeks' worth of the weekly rental amount. When you're moving into a new property, coming up with that kind of cash can be a struggle. MyOzMoney offers you access to quick loans available online, helping you to secure your new rental property faster. They are offered in the form of unsecured personal loans and paid into your bank account upon approval. You can then transfer your fast cash loans from MyOzMoney directly to your real estate and start the next exciting chapter of your life in your new home.
How to apply for rent assistance?
Applying for any of our finance products takes less than 5 minutes online. To qualify for our application process, you must be at least 18 years of age, currently employed and a resident in Australia. We offer finance options right across Australia including personal loans in Sydney, Melbourne and Brisbane.
If you're interested in any credit product, the first step you should take is finding a personal loan calculator. These are online tools designed to help you discover what you can comfortably afford to borrow from an Australian Credit License holder. A personal loan repayment calculator will give you an indication of how much you will need to pay each week, fortnight or month, depending on your pay cycle and your personal preference. You can easily budget in your repayment schedule and see how your current financial situation can benefit from access to short term loans or cash loans in the form of a line of credit. This will help you answer the question of how much can I borrow?
These tools also help you to understand how interest rates affect your borrowed amount. Personal loan interest rates will differ between loan products and loan terms. You can calculate how much your regular repayments will be for cash loans online and see which part of the repayment goes toward paying off the principal loan amount and how much of it is the interest payable (the cost of borrowing the money).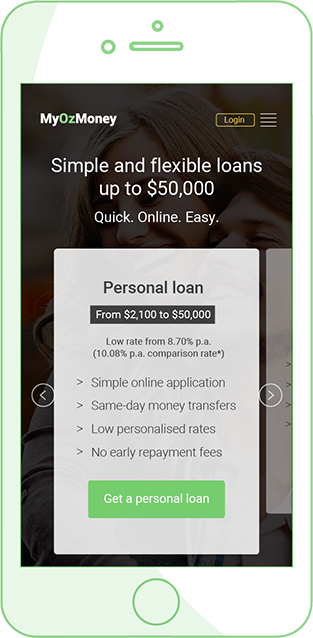 How much rent assistance can I get?
Available finance amounts from MyOzMoney start at $2,100 and are available up to $50,000. Apply for as much or as little as you need based on your affordability and what you can comfortably repay.
Rent assistance options can also come in the form of a rolling line of credit. Rather than short term loans for covering your bond amount upfront, you can apply for a product that offers you access to a cash advance right when you need it. Our line of credit option sees you pre-approved for amounts ranging from $1,000 to $15,000 that is instantly accessible whenever you need it.
Rather than a lump sum amount paid into your bank account, this option allows you to access instant loans that you draw down against your pre-approved credit amount. You can pay the amount you borrow back instantly or overtime in regular instalments. A credit line can help with small loans that you need right now or for helping to cover living expenses over the short term. Like a credit card, you can use and reuse this credit option as often as you like.
To apply online for any of our finance products, including our options for rent assistance and bond loans, takes less than 5 minutes. Find out how much you could be approved for today with MyOzMoney: home to great rates, low fees and fast, easy finance.