What is a consolidation loan?
So what do we mean by a consolidation loan and what is debt consolidation? Consolidation loans, or debt relief loans, allow you to bring your existing debts together under one loan. By taking out a larger loan, you can pay off your smaller loans and then you'll just be dealing with one loan. The benefits of a consolidation loan is that you will only have to pay administration fees on one loan rather than several, and in some cases you may be able to negotiate a lower interest rate. Scheduling one regular payment rather than juggling many repayments also makes it easier to budget and less likely that you will forget to make a payment. It also means you'll have a clear end date to work towards when your debts will be paid off. Having multiple loans--each with their own interest rates, terms, conditions and fees--can be challenging. Managing just one loan can make things a lot less complicated.   
How do consolidation loans work?
Small debt consolidation loans work in a similar way with other loans, and with so many lenders in the market, you'll need to find the loan that is right for you. Depending on which bank or financial institution you use to get your consolidation loans, the application process and eligibility criteria will differ, and the loan will come with different terms and conditions. If you take out a fixed interest personal loan with MyOzMoney, the repayments will be spread evenly over the length of the loan term. This means you'll have predictability and be able to plan and budget for your repayments. And by consolidating your smaller loans into one loan using debt consolidation, you'll have fewer regular repayments to keep track of. 
In some instances (such as if you get a pay rise or get some extra money), you may want to pay off your loan early. Different lenders have different policies and some charge a penalty such as an early termination or break fee if you pay off your loan ahead of time. This is not the case at MyOzMoney. We encourage people to pay off their loan early if they can afford to do so, which is why we don't charge early exit fees. It pays to check out the terms and conditions of each different loan so you can choose the one that best suits your circumstances.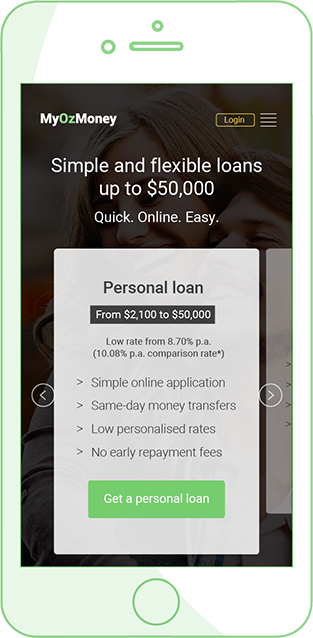 How do I apply for a consolidation loan?
If you've decided to get a consolidation loan to help you manage your debts more easily, how do you find the best consolidation loan for you? Many lenders now have online application processes that are much less time consuming than the traditional way of heading into the bank and lining up in queues. With no paperwork required, MyOzMoney has a super quick application process that takes less than 5 minutes and is done completely online. 
To apply for a MyOzMoney personal loan for debt consolidation, you'll need to be an Australian resident or citizen, over 18 and currently working in Australia. At MyOzMoney, you can apply for a low rate personal loan from between $2,100 and $50,000.   
Consolidation loans aim to help relieve financial stress, not add to it. As MyOzMoney is a responsible lender, we want to make sure we only lend you as much money as we think you will be able to comfortably afford to repay. For this reason, we do conduct credit history checks during our assessment process. Aside from your credit report, we will also take into consideration other factors such as the income you earn, your bank statements and other financial commitments. We use a proprietary loan management platform that assesses financial and social touchpoints in real-time, so once you submit your online application online, you should receive an outcome very quickly. If for some reason your online application is unsuccessful, you are welcome to apply again when your financial situation has improved.  
We are upfront about our rates, fees and charges, so you'll know exactly what the loan conditions are before you accept the loan. You can rest assured that there are no hidden fees. Once your loan has been approved and you've agreed to the contract, MyOzMoney will transfer the funds to you. 
MyOzMoney is a 100% online business but we still care about providing good customer service. You can contact us via phone on 1300 854 271 between 8am to midnight (AEST) Monday to Friday or 9am to 9pm (AEST) during the weekend. If you're looking for the best debt consolidation loans to make your life easier, call us today so we can show you how we can help you manage your finances.