What is credit card debt consolidation?
So what is debt consolidation and what do we mean by credit card debt consolidation? Debt consolidation is the process of taking out one loan to pay off several other debts. It is very common today for people to have more than one credit card. Credit card debt consolidation is the process of taking the balances of all your credit cards and consolidating them into one debt. There are several ways you can consolidate your credit card debt so if you are thinking about consolidating your credit card debts, you'll need to work out which method is best for you. 
What is the best way to consolidate my credit card debt?
One way to consolidate your credit card debts is by taking out one personal loan that can then be used to pay off multiple credit card debts. By doing this, you can consolidate your existing credit card debt into one new loan. Unlike a credit card where you have the option to repay a small minimum amount each month that differs depending on how much you've spent, fixed rate personal loans are commonly paid back over equal instalments. This can be a good discipline for some people, and it also means that you have a target date when you expect all your debt will be fully paid off. 
There are other benefits of using a personal loan for credit card debt consolidation. Combining your existing credit card debts into one lump-sum loan means you will no longer have to pay annual or monthly fees on multiple credit cards. Refinancing your credit card debt with a personal loan also takes away the hassle of needing to make multiple repayments throughout the month on different cards which can be very time consuming. By having one monthly repayment at the same time each month, rather than dealing with multiple credit cards all with different due dates, not only makes the repayments easier to manage but it also means you'll be less likely to inadvertently skip a payment. Another benefit of taking out a personal loan to get rid of your credit card debt is that personal loans generally offer a lower rate of interest. Before you commit to a personal loan for debt consolidation, make sure you make a budget to ensure that repayments are affordable and to find out whether it will actually be saving you money.  
Another way to consolidate credit card debt is to use a credit card balance transfer (also referred to as credit refinancing) to move multiple credit card debts onto one new card. A balance transfer card often has an interest-free promotional period for the existing debt which might help you save on interest in the short term and it can also provide an incentive to get your balance down as low as possible before the end of the interest-free period. Keep in mind that if you don't pay off your balance on time, you could revert to a rate of interest that is significantly higher than the average credit card rate. Another thing to note when it comes to balance transfers is that the interest-free period may not apply for any new purchases. You'll also need to factor in any associated fees. Many lenders who provide balance transfers will charge a one-off balance transfer fee (often a percentage of the amount transferred) as well as an annual fee. If you are using a money transfer card for credit card debt consolidation, there'll also be a credit limit on the card and how much debt you can transfer across to your new card will typically be a percentage of this limit. Balance transfers can provide debt relief in some cases, but you'll need to be aware of the traps and weigh the pros and cons to determine whether it is a viable option for you.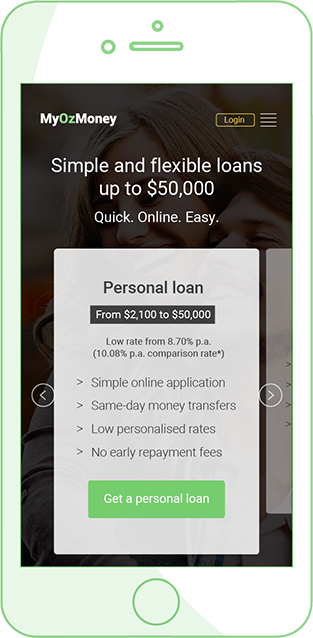 Is there a limit on how much credit card debt I can consolidate?
If you've decided credit card debt consolidation is for you, the next step is to calculate how much money you owe on your credit cards so you can work out how much credit debt you will be consolidating. Whether you need small debt consolidation loans or a larger loan, as with most lines of credit, consolidation loans use several factors including your credit score to determine your borrowing limit, your rate of interest rate and the debt consolidation terms. As a responsible money lender with an Australian Credit Licence, MyOzMoney offers simple and flexible low doc personal loans up to $50,000. During our fast application process, you'll be asked to provide details such as your current salary, your expenses (such as mortgage repayments, rent, other debts and general living expenses) and your bank statements from the last 90 days. Our proprietary loan management platform assesses financial and social touchpoints in real-time, allowing us to do a quick and accurate loan assessment. 
If you are thinking about credit card debt consolidation and looking for the best debt consolidation loans, contact MyOzMoney today and talk to us about better managing your credit card debt.