What is debt consolidation?
Before we look at the pros and cons of debt consolidation, first let's discuss: what is debt consolidation? Debt consolidation is a type of debt refinancing that involves paying off several smaller debts with one larger loan. For some people, debt consolidation can help them manage their debt better and manage their finances. In some cases debt consolidation loans (or debt relief loans) can also save you money by having fewer fees to pay or less interest (or in some cases both).
Is it smart to consolidate debt?
Before you consolidate your debt into one loan, it's a good idea to weigh the pros and cons to see if it's right for you. Everyone's financial situation is different so there is no one-size-fits-all solution when it comes to managing your debt. You may also want to seek professional advice.
One of the most obvious benefits of debt consolidation is that you will have fewer debts to maintain. This can be particularly helpful if you are struggling to keep on top of several payments all requiring differing amounts and due at different times of the month. Having only one repayment for each payment period means you'll be less likely to make a late payment. If you are taking out a personal loan for credit card debt consolidation having a fixed end date for when your loan will be fully paid off can be a good discipline for some people, and it could mean you'll pay off the loan sooner. This is in contrast to credit card debt that could continue on for decades if you are only making the minimum repayment for each payment period.
Typically a personal loan has a lower interest rate compared to other debts such as credit cards, so in some cases, debt consolidation could save you money. You'll need to look closely at the fees and charges, the interest rates and the specific terms and conditions of your existing loans and any potential loan alternatives to find out whether consolidating your debts into one loan is the best option for you. Many websites and lenders have online loan calculators and provide personal loan comparison in Australia that you may find helpful. With so many different options available, if you do decide to take out a personal loan for debt consolidation, you'll want to make sure you are dealing with a reputable, licensed company.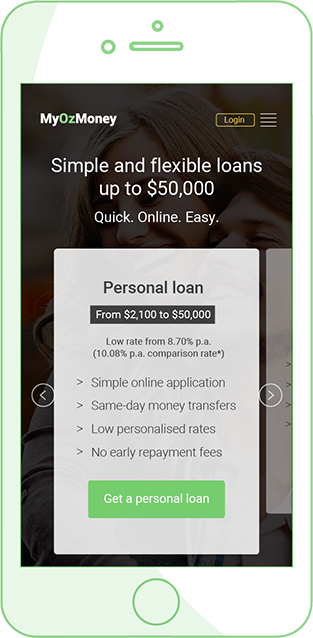 How to get loan for debt consolidation?
There are many different banks and other money lenders who provide large and small debt consolidation loans, secured debt consolidation loans and more so it is worth comparing different options to find the best debt consolidation loans for you. Once you've assessed your existing debt, you'll get a better idea of how much cash you'd like to borrow. 
The conventional way of applying for a loan involves filling out lengthy forms and compiling reams of documents. MyOzMoney specialises in low doc personal loans and has a very streamlined application process. In fact, you can apply for a personal loan from between $2,100 and $50,000 in just 5 minutes. To be eligible to apply, you'll need to be a citizen or permanent resident of Australia, currently employed and at least 18 years of age. If you provide us with your online bank details, we can access a read-only PDF copy of your 90-day bank statement history via an online portal that uses the same level of security as many banks. And by using a proprietary loan management platform that assesses financial and social touchpoints in real-time, we can fast track the assessment of your application. 
MyOzMoney has an Australian Credit Licence and we pride ourselves on responsible lending, so you can rest assured that you are dealing with a reputable lender. When assessing your loan application, we take into account factors such as your credit score, credit history, income, living expenses and other financial commitments. We don't want to lend you more than you can afford to pay back. You'll know upfront what your interest rate and loan repayments will be as well as any fees and charges before you go ahead with your loan. If you apply for your loan during business hours, you should receive an outcome within the same day. Once your application has been approved, your funds will be transferred directly to your bank account. Transfer times may vary depending on your bank. 
If you are looking to simplify your personal finances, talk to MyOzMoney today and see if a personal loan for debt consolidation is right for you. You can get in touch via phone on 1300 854 271 between 8am to midnight Monday to Friday or 9am to 9pm Saturday and Sunday (Sydney/Melbourne time), or send us a message online. At MyOzMoney, we are all about making life easier for you!