Things to consider
There are many things to consider when purchasing a car, and it is important to shop around. Second hand cars are generally cheaper than new ones, but come with the risk of existing wear and tear, and maintenance issues. If you can find a second hand car that is only a couple of years old, however, its new car warranty may still be valid, which can give you extra peace of mind. Expenses to budget for include on road costs, such as registration, stamp duty, and insurance.
Freedom, independence, flexibility
Unsecured car loans can help you purchase your car and even customise it to your taste. Whether you are buying your first car, or upgrading your existing car, you may want to make your car unique by customising it and adding your own special touch. A MyOzMoney car loan can also cover related expenses, such as urgent repairs to the car, or general maintenance. In fact, it can even be used to finance boats. Yes, it's quite flexible.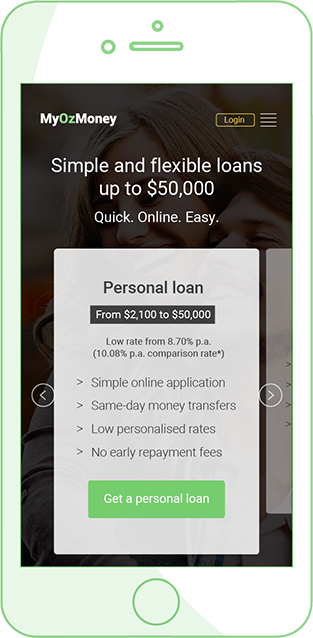 Acting fast
It's best practice to visit and compare offers at different dealerships. This allows you to negotiate the best price for the car you want. When you have found a great deal, you may need to act quickly so you don't miss out. This is where a MyOzMoney unsecured car loan can really help. These personal loans allow you to borrow up to $25,000 from us, quickly and easily. The application process takes just five minutes, and there is no time-consuming paperwork to complete. We assess everything electronically using bankstatements.com.au, which is a secure online checking system. This allows us to view 90 days of your bank statements, without you having to send us any pay slips. Once approved, the cash can be in your account within an hour, depending on your financial institution.
Responsible and flexible
At MyOzMoney we take responsible lending seriously. We will only lend you what we know you can afford to repay. We disclose all of our fees and charges up front before you accept our loan offer, so there are no nasty surprises. You can also easily work out your repayment commitments using our personal loan calculator. You can have your repayments debited in line with your income cycle, making it one less thing to think about. We also offer flexible repayment options and great interest rates. If you have an excellent credit history, and if you repay your loan on time, you can additionally qualify for cheaper rates on future loans.